The Advantages and Beauties of Lake Pennesseewassee
From the Norway Advertiser, July 31, 1908
"A prophet is without honor in his own country" and likewise "the natives" as a general thing are slow to appreciate the value and beauty of their own town or lake. This, I believe, applies to the Oxford Bears and their cubs of Norway and the surrounding country. They are slow in appreciating what a really nice thing they have in the picturesque Lake Pennesseewassee. There are some, though, of the natives and former inhabitants, and of those who have not seen the place but are learning of its beauties, that are coming among us for a few weeks rest and recreation. More will join the ranks as they learn of what this lake and the surrounding country has to offer them, and it seems that a mention of what the place is like and what has already been done towards making this a summer resort may prove of interest to many.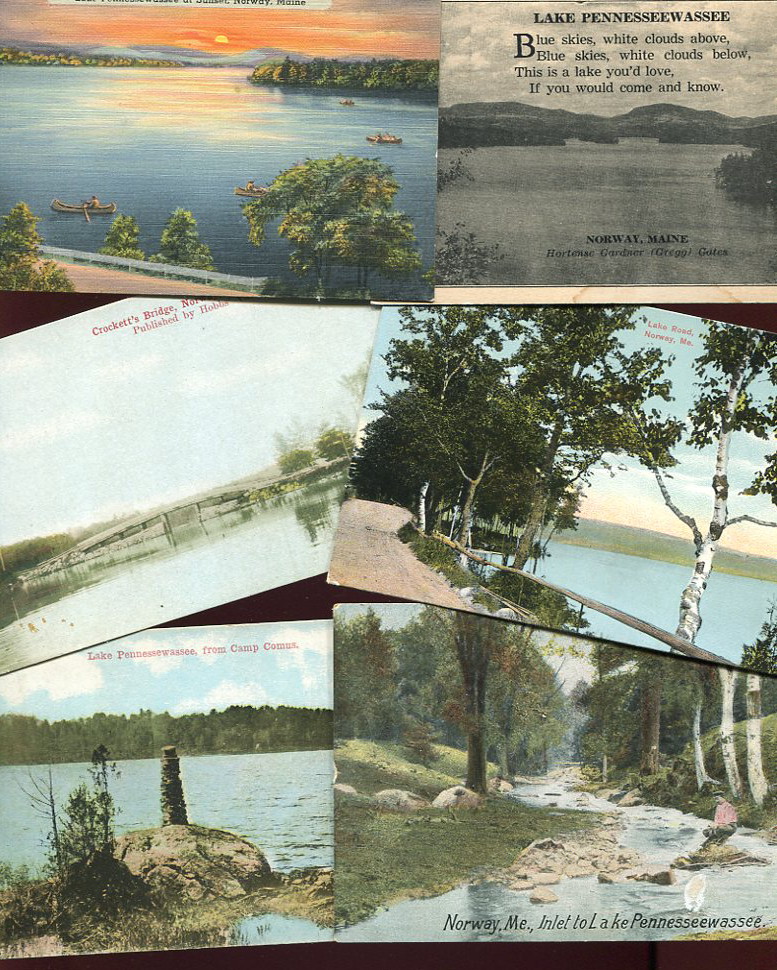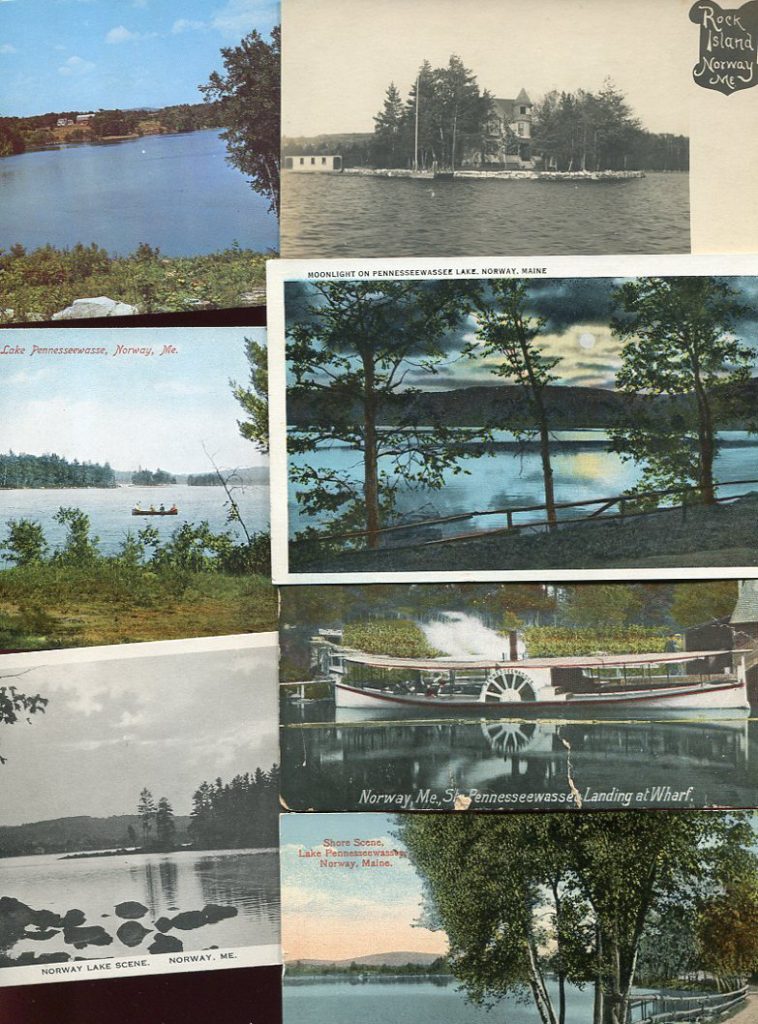 Lake Pennesseewassee is about five miles long and from 1/3 to 1/2 of a mile wide. Walled in by lofty mountains, it presents almost numberless charms to all classes of people.
The reflections of cloud forms and mountain peaks, the charming forests and cedar thickets along the shore are of great interest. The gorgeous sunrises and sunsets, wondrous views and atmospheric effects are pleasing to the eye.
Far from the hustle, heat and dirt of the city, with cool shady woods, green fields and thickly wooded hills, if you want rest and quiet, you can find it here. And if you want fish, you can get them.
Then there are many places of interest about the country to visit. The drives extend over the hills and mountains, through forests and valleys, and along the shores of lakes. Some nearby places of interest include Mount Mica at Paris Hill; Paris Hill, where the old county buildings were located; the ice caves at Greenwood; Albany basins at Albany; Thompson Lake, Oxford; Maine Sanitorium, Hebron; Keoka Lake and Mount Tir'em, Waterford; Long Lake and Harrison Village; Artemus Ward's grave and early home, Waterford; and many other places of equal interest.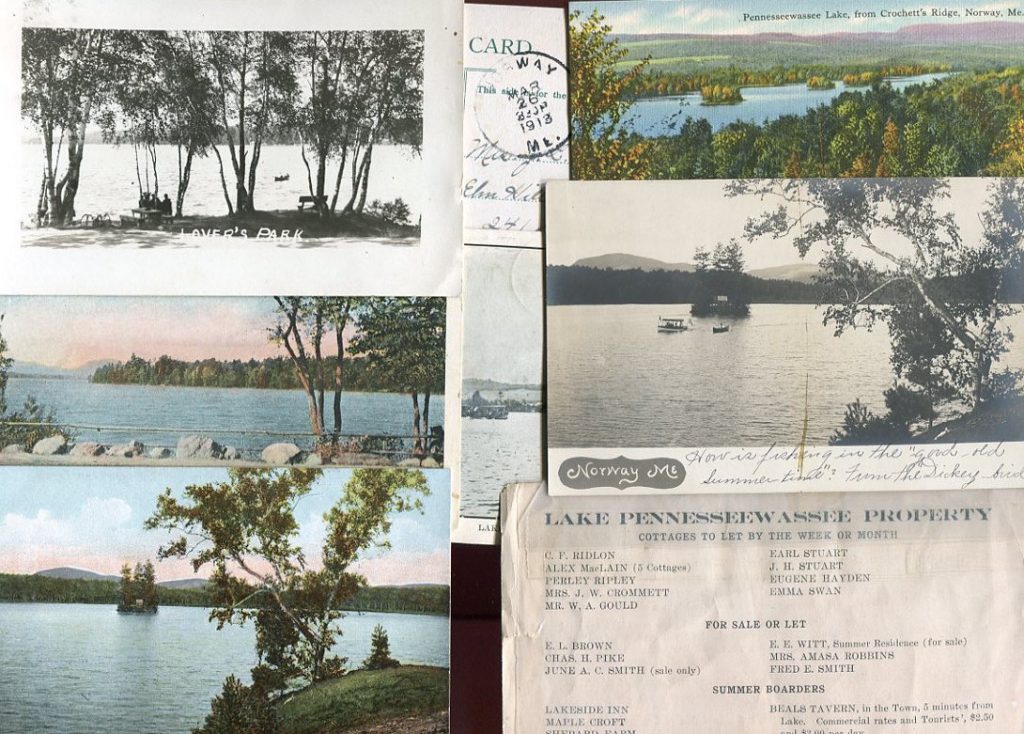 There are numerous tales told of the Indians and early settlers of Norway, and the surrounding country. We are all told that it was in pursuit of wild animals and trout that this land was first visited by those who later settled here.
The Indians had no regular camping grounds within the limits of Norway, but they often visited the Pennesseewassee and other lakes, as their trails from the sea shore to the Northern lakes led through here.
There are now upwards of 40 cottages and camps on the shores and islands of the lake.  There are several places not far from the lake that accommodate summer boarders.  The amusements of the summer place include the playing of croquet and ball, picture taking, etc.  Many that come here for rest do not care for so much amusement, but those who care for it can find ample ways to employ their time.
There are convenient farms where the vacationist can procure milk and other farm supplies, and at the village, other needed supplies can be obtained.
Two power boats do service on the lake.  The steam launch "Zanita," run by George P. Downing & Son, Harry Downing, Captain; "The Portland," owned by M.W. Sampson and run by "Capt. Hen and Pilot Ben" Hosmer.